THE HIDDEN ORACLE
Hey guys, it's time to review. Yup, this time I finished The Hidden Oracle, the first book from Trials of Apollo series by Rick Riordan.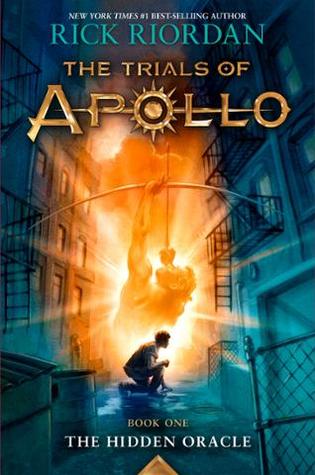 SHORT DESCRIPTION:
How do you punish an immortal?
By making him human.
After angering his father Zeus, the god Apollo is cast down from Olympus. Weak and disorientated, he lands in New York City as a regular teenage boy. Now, without his godly powers, the four-thousand-year-old deity must learn to survive in the modern world until he can somehow find a way to regain Zeus's favour.
But Apollo has many enemies - gods, monsters and mortals who would love to see the former Olympian permanently destroyed. Apollo needs help, and he can think of only one place to go . . . an enclave of modern demigods known as Camp Half-Blood.
MY THOUGHTS:
YAYYY!!!! I finished the book. No one can explain Greek mythology as endearing as Rick through Percy. I will always laugh out loud whenever he criticizes the gods or when he tries to explain God's cruelty. But this time, the great God Apollo tells the story in his own way. Yeah, I know he may be charming as hell if he wants. But I really got quite irritated because of
his
self-centered
and
self-praising
attitude. But other than that I loved the book and enjoyed it.
He really came to understand a lot from his experience of being a mortal. He can grip reader's attention so well(but still no one can beat Percy)! I was so eager to have the glance of what the other characters from Heroes of Olympus have become. Well,
fans of Will and Nico got their ship(Yup, they got together officially). On the end,
as always and expected Percy will come to save the day. I was like , OH GODS, when will my perfect Leo come?
Then, FINALLY(literally too!), he graced me with his appearance. No matter how I love Percy so much. I'll always be on TEAM LEO! Even though what happens, Rick
ends
his book with some happy(maybe a little) moments unless you count MARK OF ATHENA.
So I can endure till the next book comes out!
MY RATING: Exceeds Expectations