BOOK REVIEW #24- MORE HAPPY THAN NOT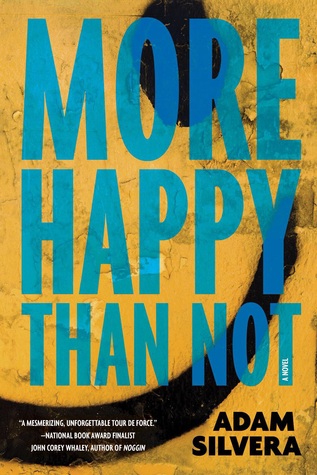 BLURB:
In his twisty, gritty, profoundly moving debut—called "mandatory reading" by the New York Times—Adam Silvera brings to life a charged, dangerous near-future summer in the Bronx.
In the months after his father's suicide, it's been tough for 16-year-old Aaron Soto to find happiness again--but he's still gunning for it. With the support of his girlfriend Genevieve and his overworked mom, he's slowly remembering what that might feel like. But grief and the smile-shaped scar on his wrist prevent him from forgetting completely.
When Genevieve leaves for a couple of weeks, Aaron spends all his time hanging out with this new guy, Thomas. Aaron's crew notices, and they're not exactly thrilled. But Aaron can't deny the happiness Thomas brings or how Thomas makes him feel safe from himself, despite the tensions their friendship is stirring with his girlfriend and friends. Since Aaron can't stay away from Thomas or turn off his newfound feelings for him, he considers turning to the Leteo Institute's revolutionary memory-alteration procedure to straighten himself out, even if it means forgetting who he truly is.
Why does happiness have to be so hard?
MY THOUGHTS:
"I ignite the wick, and the firework takes flight. In that moment, I wish my existence were as simple as being set on fire and exploding in the sky"

Aaron, the sixteen-year-old guy who just lost his father and attempted suicide thinking that he could find happiness in his death. But what we expect doesn't happen always. As the time being, he came to realize what he did was fucking stupid. And continues to live a normal life with his girlfriend Genevieve. But he doesn't know how his life would change after meeting a guy, Thomas while playing manhunt game with his neighbors. Will he be able to live a happy life when he was struck with the suppressed memories that guy will bring?

MY FEELING: MORE EMOTIONS THAN NOT




MY God! This was the best standalone book I have ever read. Why haven't I read this sooner? This one got me teary eyed throughout the second half of the book. It brings every emotion once I was really into the book. This book definitely hits my favorite shelf.

Even though he understood what he did was wrong and stupid, still, it shows the side of suicide. According to me, SUICIDE is such a coward thing to do. No one should really think of it even for a single second. There will be at least a single thing you're worth living for!

"When your life sucks, your story sucks", he said.
"Sometimes your story is worth reading about because your life sucks", Aaron said.

Aaron's been exposed to fighting in his entire life. But he changed when Thomas shared his views on beating someone is not a proud thing. So he promised himself that he wouldn't just stand by anymore when someone's life was being threatened. I loved how he gradually came to live happily even though he couldn't get what he wants.

"Memories: some can be sucker punching, others carry you forward; some stay with you forever, others you forget on your own."

I would recommend EVERY.SINGLE.PERSON to read this heart wrenching story!
MY RATING: Outstanding