BOOK REVIEW #25 - THRONE OF GLASS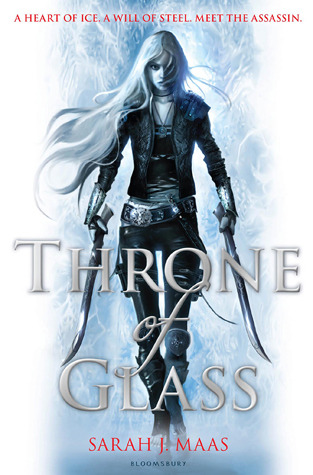 BLURB:
Meet Celaena Sardothien.
Beautiful. Deadly.
Destined for greatness.
In the dark, filthy salt mines of Endovier, an eighteen-year-old girl is serving a life sentence. She is a trained assassin, the best of her kind, but she made a fatal mistake. She got caught.
Young Captain Westfall offers her a deal: her freedom in return for one huge sacrifice. Celaena must represent the prince in a to-the-death tournament—fighting the most gifted thieves and assassins in the land. Live or die, Celaena will be free. Win or lose, she is about to discover her true destiny. But will her assassin's heart be melted?
MY THOUGHTS:
"I will not be afraid".
That's what I thought before starting the series. Because you know the hype around this book. What if I hated the story? That's why I kept stalling this book instead of starting it. Thank you
Brit
for making a read-along, because of that I got into this book. And boy, how I wished I could have started this sooner.
Anyways, let me say my reaction. Within a few minutes, I started to like it. It was so good. Celaena! Woah, her
attitude, wit, and courage.
Everything was perfect. But, I was annoyed at first because she was way too proud. But gradually, it changed.
"She killed her overseer and twenty-three sentries before they caught her."
Such a
badass
! I was so thrilled to see her actions. I laughed at her smart witty remarks. And yet I could see the darkness of her past. Overall, she was the girl I wish to be.
Now the boys.
Is it bad to love both the boys?
I couldn't choose between them. For a chapter or two, I was like "Wow, Dorian you're adorable". And then after another few chapters, "Chaol, you're the best". *huff*
And the PLOT. It was remarkably good. Fast paced. I flew through the book so fast. Whenever I opened it, I couldn't bring myself to stop it.
The inner battle that took place within me:
MY HEART: "Damn, I know you love the book. Just continue."
MY MIND: "Don't even think about it."
People are saying. "OH,you like Throne of Glass. Wait, till you read
Crown of Midnight
. That was the best sequel ever." So my expectations are definitely up.
"We all bear scars, Dorian. Mine just happen to be more visible than most."
People who haven't started the series, you should read it. I would recommend this to anyone who loves to have someone's ass kicked.
MY RATING: EXCEEDS EXPECTATION