BOOK REVIEW #26- CROWN OF MIDNIGHT
Hey guys! It's time to review my next book. YAY, I'm giving myself an applause, because finally I started the series and CONTINUES to read. So this one is the sequel to Throne of glass. I'm gonna do the review with and without spoilers. So without further ado, let's start!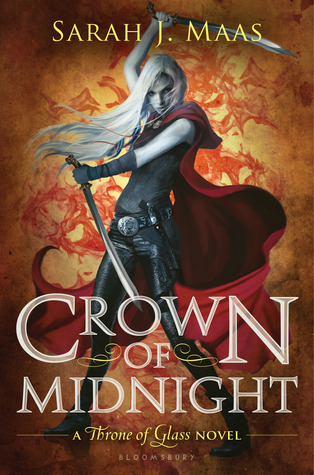 BLURB:
"A line that should never be crossed is about to be breached.

It puts this entire castle in jeopardy—and the life of your friend."

From the throne of glass rules a king with a fist of iron and a soul as black as pitch. Assassin Celaena Sardothien won a brutal contest to become his Champion. Yet Celaena is far from loyal to the crown. She hides her secret vigilantly; she knows that the man she serves is bent on evil.

Keeping up the deadly charade becomes increasingly difficult when Celaena realizes she is not the only one seeking justice. As she tries to untangle the mysteries buried deep within the glass castle, her closest relationships suffer. It seems no one is above questioning her allegiances—not the Crown Prince Dorian; not Chaol, the Captain of the Guard; not even her best friend, Nehemia, a foreign princess with a rebel heart.

Then one terrible night, the secrets they have all been keeping lead to an unspeakable tragedy. As Celaena's world shatters, she will be forced to give up the very thing most precious to her and decide once and for all where her true loyalties lie... and whom she is ultimately willing to fight for.
MY THOUGHTS:
*SPOILER FREE*
I KNEW IT. I had a hunch who she really was, but still, the truth made me shiver.
This was definitely better than the first one. I really enjoyed the whole journey. I don't know how I feel about Chaol now. Celaena has grown on me. She could be scary sometimes if she wants. I don't want anything to happen to my dear boy, Dorian. Finally, realized how cruel the King of Adarlan was. I definitely love Mort. He is damn hilarious. MAGIC! Finally came to Adarlan.
I'm excited to know more about Celaena.
One hell of a ride!
*SPOILERS AHEAD*
So our Celaena becomes King's champion after the ridiculous competition in the last book. Now, this one starts with where she is doing King's nasty business, in other words, killing innocent people. Every single time the King will give his nemesis name and a time limit in which she has to do the dirty deed. When she came up with the head of her victim, it will send shivers upon everyone.
Poor Dorian, couldn't know what to think of this ruthless Celaena. And on the other side, Chaol understands the real assassin hiding behind the beautiful face.
But the truth is she is not as ruthless as everyone thinks. Because she gives a chance to every single victim to continue their lives in a different country under alias names. Celaena does really have a lot of secrets. She eventually reveals it only to the people who she trusts. And that list definitely is not a long one.
And now Dorian. He came to realize that magic was there in his blood, which his previous ascendants haven't got. Moreover the king would definitely behead him if he came to know about this. He is researching how this could happen and how to control it before someone knows. Sometimes I feel bad when he tries to move on Celaena. Even though he knows he couldn't have her, a tiny little part still loves her.
Archer, a new character who was the next victim of Celaena. According to the king, he was in a group which was raised against the king. But Celaena needs the information about the group. Often, Archer will share the information he knows.
Chaol. Finally, he and Celaena accepted their feelings. Ah! man, I really loved him. I thought he was perfect until he hides the truth from Celaena. Because of that, our brave friend Nehemia died. She was brutally murdered by an assassin Grave who was a participant of the competition. So Celaena went after him for revenge.
FINALLY, Celaena came to know the plans of the king. Which you all know, so I don't want to discuss it in detail.
I though she might be Aelin, the real heiress to the throne but I never expected she was a FAE. I was literally shocked.
The betrayal, the hidden secrets everything comes to light.
The character development was wonderful. Celaena has completely grown on me. The plot was brilliant and fast-paced. I was never bored even for a single second. The complete journey was exquisite. I would strongly recommend this.
Let's see who will be Celaena's love interest in the next book! Patiently waiting.
MY RATING:
Exceeds Expectation
PS: I hope you like this review. Follow me for more updates! Leave your comments below or start a discussion.
~Until next time