BOOK REVIEW #27- PASSENGER
Hello everyone! It's review time! This time it was Passenger by Alexandra Bracken.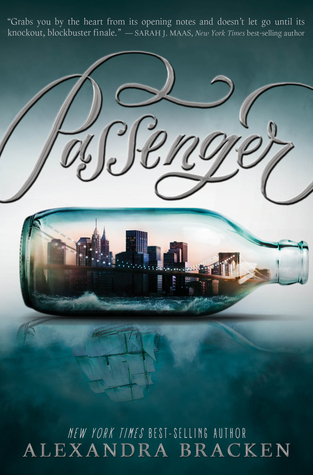 BLURB:
Passage
, n.
i. A brief section of music composed of a series of notes and flourishes.
ii. A journey by water; a voyage.
iii. The transition from one place to another, across space and time.
In one devastating night, violin prodigy Etta Spencer loses everything she knows and loves. Thrust into an unfamiliar world by a stranger with a dangerous agenda, Etta is certain of only one thing: she has traveled not just miles but years from home. And she's inherited a legacy she knows nothing about from a family whose existence she's never heard of. Until now.
Nicholas Carter is content with his life at sea, free from the Ironwoods—a powerful family in the colonies—and the servitude he's known at their hands. But with the arrival of an unusual passenger on his ship comes the insistent pull of the past that he can't escape and the family that won't let him go so easily. Now the Ironwoods are searching for a stolen object of untold value, one they believe only Etta, Nicholas' passenger, can find. In order to protect her, he must ensure she brings it back to them—whether she wants to or not.
Together, Etta and Nicholas embark on a perilous journey across centuries and continents, piecing together clues left behind by the traveler who will do anything to keep the object out of the Ironwoods' grasp. But as they get closer to the truth of their search, and the deadly game the Ironwoods are playing, treacherous forces threaten to separate Etta not only from Nicholas but from her path home... forever.
MY THOUGHTS:
I haven't read any Bracken's book and so I didn't have any expectations when I started this. The only thing I know about is that it involves time-travel and pretty much it has mixed reviews. I'm not a sucker for the time-travelling thing because I will be confused sometimes and don't know what the hell is happening. But after getting into fanfictions about time travel, I improved my knowledge on it. See,
you can learn something from fanfictions too
.
After reading
Outlander, my first time-travel book
. I was like "Ah, another book. Let's see what this book is hiding in its sleeves up." And definitely, it has a lot of great things.
WRITING AND PLOT:
I don't know why I feel so different about the writing, but boy I really
loved it
. I was constantly
pestering Oceana(my buddy read friend) how I loved the style.(LOL) It was solid, rich and flowed through the pages so freely. The plot is very different. This isn't the same as you all expected when you heard about time-travel. But it wasn't fast-paced. I was kind of bored, and I almost DNF'ed the book, but I kept on pushing myself to finish it. Though the last few chapters kept me on the edge.

CHARACTERS: Etta, she was definitely a strong willed person. She will tell her thoughts immediately no matter what happens. I kind of felt bad for her, of not knowing the truth about her own life, but only the part of it. Her mom hides the truth from her. Guess where you heard this one. Yeah, THE MORTAL INSTRUMENTS, where the same thing happens. But overall I liked her.

Nick, a sailor. What do you want anything more from him? You see, I love sea-traveling, but haven't done that and I would love to, so I obviously love this sailor too. How he fights his feelings for Etta is somewhat I found amusing. Man, their 'moments' was so beautiful, it even made my toes curl, something that won't happen often. For first few chapters, I imagined him as Captain Hook and Julian as Smee from Once Upon A Time Series. But it eventually changed.

Sophia. God how I was annoyed by her mere presence. I really don't want her to be in the next book, but sad to say it won't happen. Then there is Rose, Etta's mother, poor Etta needs to know about her mom. I didn't like her at all.

"I forget myself with you," he said roughly. "I forget the rules. I forget every other living soul in this world. Do you understand?"

I do understand. That's why it's the problem. I can't have you. Can I?

Overall, it was a good read. Patiently waiting for the second book!
MY RATING: Acceptable
~Until next time!