BOOK REVIEW #32- EVERYTHING EVERYTHING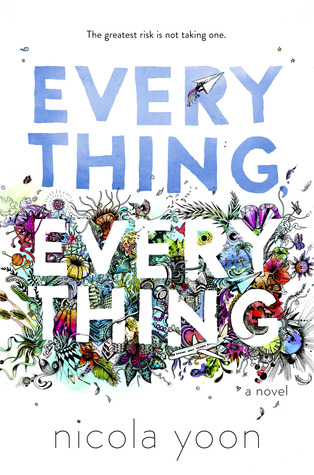 BLURB:
My disease is as rare as it is famous. Basically, I'm allergic to the world. I don't leave my house, have not left my house in seventeen years. The only people I ever see are my mom and my nurse, Carla.

But then one day, a moving truck arrives next door. I look out my window, and I see him. He's tall, lean and wearing all black—black T-shirt, black jeans, black sneakers, and a black knit cap that covers his hair completely. He catches me looking and stares at me. I stare right back. His name is Olly.

Maybe we can't predict the future, but we can predict some things. For example, I am certainly going to fall in love with Olly. It's almost certainly going to be a disaster.
MY THOUGHTS:
"I promise you that I know my own heart. It's one of the few things that's not completely new to me."
Whoa, that was a quick read. This book completely captivated my focus until the very end. Why I'm saying this is because I couldn't do a single thing other than reading this. I tried to put the book down and did some things, but my mind was not on to it. So, of course, I opened the book. I didn't eat anything until I finished this. This is something.
Trust me, even I read Acknowledgements. I was not ready for the book to end yet.
It's like watching a cute Korean drama. Everything was adorable in a meaningful way. And this book made me want to read the books which were mentioned in it especially, The Little Prince. I pretty much gets excited when I met or read about another book reader. So, it's another reason why I liked this book.
I was a sucker for the boys who brought the girls out from their shell. Because of them, they would see the world in a different way. It's not like I'm saying girls don't know anything about the world. How could I say something like that? It's just that they make us see the world in different light. I hope you got the meaning. That's what Madeline felt too.
"You're all the good things wrapped into one good thing."
You see, everything was going smoothly until a point where the table took a 360-degree turn. I was dumbstruck. It completely caught me off the guard.
I was having a goofy grin on my face whenever I read their IM messages. They both are adorable. Everyone has their own problem. Olly, having a bat-shit crazy father and Maddy having an over-obsessive-protective mother.
"Sometimes you have to leave the people who love you the most."
Even though I loved everything, everything. I was not emotionally attached to the characters. I guess it would be better if I was.
Anyways, if you like a quick and adorable read, you would like this.
MY RATING: Acceptable
Until next time!