BOOK REVIEW #45- PUNK 57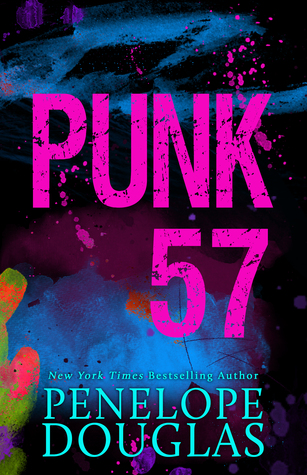 BLURB:
"We were perfect together. Until we met."

Misha

I can't help but smile at the words in her letter. She misses me.

In fifth grade, my teacher set us up with pen pals from a different school. Thinking I was a girl, with a name like Misha, the other teacher paired me up with her student, Ryen. My teacher, believing Ryen was a boy like me, agreed.

It didn't take long for us to figure out the mistake. And in no time at all, we were arguing about everything. The best take-out pizza. Android vs. iPhone. Whether or not Eminem is the greatest rapper ever…

And that was the start. For the next seven years, it was us.

Her letters are always on black paper with silver writing. Sometimes there's one a week or three in a day, but I need them. She's the only one who keeps me on track, talks me down, and accepts everything I am.

We only had three rules. No social media, no phone numbers, no pictures. We had a good thing going. Why ruin it?

Until I run across a photo of a girl online. Name's Ryen, loves Gallo's pizza, and worships her iPhone. What are the chances?

F*ck it. I need to meet her.

I just don't expect to hate what I find.

Ryen

He hasn't written in three months. Something's wrong. Did he die? Get arrested? Knowing Misha, neither would be a stretch.

Without him around, I'm going crazy. I need to know someone is listening. It's my own fault. I should've gotten his number or picture or something.

He could be gone forever.

Or right under my nose, and I wouldn't even know it.
MY THOUGHTS:
I should be proud of myself. This is me exploring a new genre. Well, if you believe this is my first new adult read, then I can't say anything about that. I've read loads of wattpad stories on that genre, but this is the first OFFICIAL read. Whatever, it means.
I'm a sucker when it contains these following things:
1. High school setting
2. Bad boy vibes
3. Bad boy and good girl fell in love.
4. Characters writing to one another.
I know this is so much
cliché
, but still, I love those things. #confession #noshame
So when I was searching new books to add to my tbr, I stumbled upon this book. And the ratings and reviews were so good that I immediately wanted to read it.
Because of some misunderstanding, both Misha and Ryen became pen pals. And after seven years, they continue to write each other in the same old way(not emails). And they both become so close. They depend on each other. But suddenly Misha stops writing the letters. And that's where everything starts.
Misha:
He doesn't make me swoon over him. But still, he made me feel things that I will NOT tell you. OMG! He has such a filthy mouth(And I SECRETLY likes it*ahem*). He knows what to say and how to make you feel good. He seems more mature than Ryen. He can be arrogant sometimes but still a better pair for Ryen.
Ryen:
Complete bitch. She's acting like a bitch. But she doesn't want to be. If she acts like that, then she will be popular and will be accepted by bullies. She definitely seems adventurous. Of course, she has flaws.
The high school they are studying is complete crap. People vandalizing it so easily. At least 25 times. The principal couldn't make her student(Misha) listen to her. From this, you can see how horrible a high school can be. Thank god it didn't happen to me. I LOVED MY HIGH SCHOOL.
OMG, those steamy scenes were too hot to handle. I was reading the book before my bed time. And you just think, at what state I would be in at that moment.
Overall: A quick read. Anyways, if you want a high school budding romance with twist and turns, then this is for you. FYI: If you are okay with sexual tension and steamy scenes that are.
MY RATING:
Dreadful