BOOK REVIEW #62 - WHEN THE MOON WAS OURS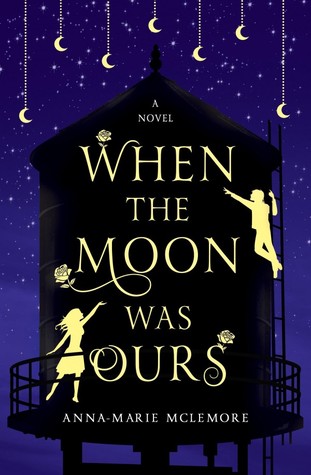 BLURB:
To everyone who knows them, best friends Miel and Sam are as strange as they are inseparable. Roses grow out of Miel's wrist, and rumors say that she spilled out of a water tower when she was five. Sam is known for the moons he paints and hangs in the trees, and for how little anyone knows about his life before he and his mother moved to town. But as odd as everyone considers Miel and Sam, even they stay away from the Bonner girls, four beautiful sisters rumored to be witches. Now they want the roses that grow from Miel's skin, convinced that their scent can make anyone fall in love. And they're willing to use every secret Miel has fought to protect to make sure she gives them up.
MY THOUGHTS:
My first read for FANTASTICALLY DIVERSE READ-A-THON.
The book is MAGICAL in every sense. THE COVER. THE PLOT. THE CHARACTERS. THE WRITING.
I don't know what to say about this. But I'll try to list them out.
- The writing is so PRECIOUS. It made me gasping for my breath. I was like,"I need to write like this."
- There are some things I couldn't put my hands on. It's not weird or strange. It's just that......somehow complicated? I was confused like I couldn't understand the concept.
- This book is full of surprises. I can guarantee to that. The truth will hit you literally.
- Roses grow out of Miel's wrist. This may sound beautiful. But trust me it's not. The pain along with the beautiful petals is so hard to bear. And when some girls trying to get those roses by any means is ridiculous even though when Miel told them it was of no use.
- People trying to sell your secret for their own good is despicable. And we will learn those things here.
- Miel and Sam. They are adorable. Loving with everything. Even though they were in a complexed situation, they were for each other.
- It took days to finish this. I just couldn't invest myself in this no matter how hard I tried.
- So, this is typical "IT'S NOT YOU, IT'S ME."
- And yet, I would recommend this glorious work.
MY RATING:
Acceptable