BOOK REVIEW #63 - SIEGE AND STORM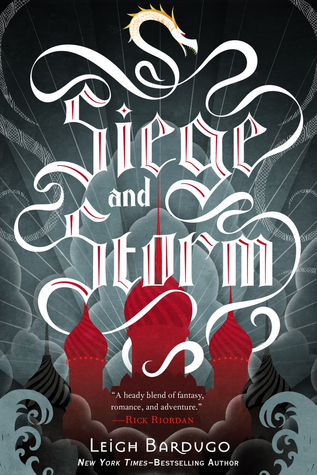 BLURB:
Darkness never dies.
Hunted across the True Sea, haunted by the lives she took on the Fold, Alina must try to make a life with Mal in an unfamiliar land. She finds starting new is not easy while keeping her identity as the Sun Summoner a secret. She can't outrun her past or her destiny for long.
The Darkling has emerged from the Shadow Fold with a terrifying new power and a dangerous plan that will test the very boundaries of the natural world. With the help of a notorious privateer, Alina returns to the country she abandoned, determined to fight the forces gathering against Ravka. But as her power grows, Alina slips deeper into the Darkling's game of forbidden magic, and farther away from Mal. Somehow, she will have to choose between her country, her power, and the love she always thought would guide her--or risk losing everything to the oncoming storm.
MY THOUGHTS:
This book is waaaaay better than the first one. Thank the gods for that!
- This book definitely stays in the dark side and hence I loved it. Alina was swelled in darkness. I can't help but fall in love. And good lord! GO FOR IT DARKLING. HE IS POWER. HE HAS POWER. HE WAS SWIMMING IN POWER. I was litttttttttle disappointed with him in the first book. And this book's Darkling was the one how I wanted to see him. I'M SOOOOO HAPPY IT HAPPENED.
- The pacing was brilliant. And I'm pleased to say that I'm stuck up with this world. I just WISH this pacing would happen for Queen of Shadows which I'm currently reading. I was bored to the bone. The book was sleeping on my shelf.
- Alina was trapped in the hands of Power. She was torn and yet hunger for more is there. I quite liked the struggle of hers. It felt genuinely real. And the fear of losing herself in madness/darkness is legit.
"I like to think of myself as delightfully complex."
- Nikolai, a smart ass! I was waiting for the character to appear. And when he was revealed, I was NOT surprised. One, I guessed it. Two, I had a dream where I found who really Nikolai was. Am I the one who dreamt of something like this? I guessed correctly even in my dreams. *swaggering* #proud
- He is funny. OMG, how I laughed at this quirks. His wit is the only light that swirls in the sea of darkness, the book that is.
- I STAND WITH THE SAME SHIP. ALINA+DARKLING=PERFECT. BUT I KNOW IT WON'T HAPPEN. SO MY NEXT CHANCE WOULD BE NIKOLAI. I DON'T WANT ALINA TO END UP WITH MAL. I WOULD BE DISAPPOINTED IF THAT HAPPENS.
- Mal. I could see his discomfort, But that doesn't stop me from saying that his actions were ridiculous. His rash behavior neither showed bravery nor usefulness. It was an outright stupid thing.
- No action was there unless you count the climax scene. But the darkness summed up the actions for me. So I was NOT disappointed.
MY RATING: Exceeds Expectation