BOOK REVIEW #64 - QUEEN OF SHADOWS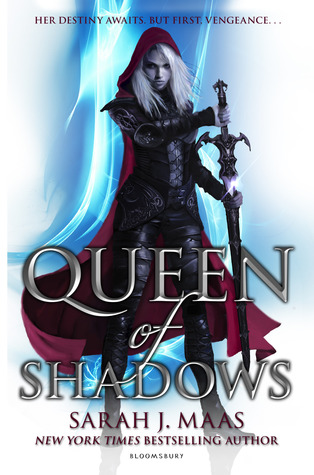 BLURB:
Everyone Celaena Sardothien loves has been taken from her. But she's at last returned to the empire—for vengeance, to rescue her once-glorious kingdom, and to confront the shadows of her past . . .
She will fight for her cousin, a warrior prepared to die just to see her again. She will fight for her friend, a young man trapped in an unspeakable prison. And she will fight for her people, enslaved to a brutal king and awaiting their lost queen's triumphant return.
Celaena's epic journey has captured the hearts and imaginations of millions across the globe. This fourth volume will hold readers rapt as Celaena's story builds to a passionate, agonizing crescendo that might just shatter her world.
MY THOUGHTS:
A slow burn is what the book is.
Before starting my sharing of experience, I just want to admit how I admire SJM for writing action scenes like hell. HOLY COW! Adrenaline rush. It was like I was fighting those bloody bastards. The pure joy in fighting, I had.
Even though the book had two parts, I'm gonna split it into 3 parts.
The first part killed me. I was going through a lot because Aedion was going through hell. I just couldn't stand his pain. But the pain slowly subsides as he was escaped with the help of his queen.
The second part is where I just wanted to throw the book away *of course, I didn't* Hear my reasons for it. One, I was bored to tears. Nothing was happening. I wanted to skim chapters, but I'm not that type. So I painfully went through it. Two, I reached a point where I wanted to put some sense into Rowan and Aedion. I can understand their loyalty to their queen. But everything has a limit. I hated their bickering. I was annoyed at Aelin. She was headstrong. She was so full of herself.
Third part: Bloody ride. I think SJM was known for her last 200 pages of the book. Everything escalated so quickly and the pages were electrifying. But I dare say Heir of Fire is the best so far.
"Let's go rattle the stars."
AEDION: Two words, MY BAE
MANON: I love her to the core. She was everything. Bold, fierce, kind and strong. And the epic meeting between her and Aelin was something I waited for so long and I was not at all disappointed.
AELIN: As I said, she was so full of herself. So I was beyond irritated at her antics. But when she realized what was waiting for them, she turned into a ruler. That's what I wanted and loved. And when she became Celaena, the kick ass assassin, I admired her. Her strategies, her plannings everything was brilliant. If only she was not conceited, I would love her to the core.
ROWAN: Prince Fae. Both Aedion and him were so loyal. They will do anything for her. I like to see him in his fae form and especially in a battlefield. He is definitely made for fighting. Other than that, he was okay for me.
LYSANDRA: She was fierce and her saving Evangeline is, of course, a heroic act. She was bold and her power is something which I never expected. And the ghost leopard scenes were sooooo good.
I don't know what to talk about Chaol.
DORIAN: God! He is a miracle. That's all I have to say.
There were also some strong and unforgettable characters. And some of them will leave a strong impression on you like Nesryn, Asterin, and Kaltain.
And I really want to know more about this Sam. So before Empire of Storms, I need to read Assassin's Blade.
MY RATING: Acceptable