BOOK REVIEW #65 - THE ASSASSIN'S BLADE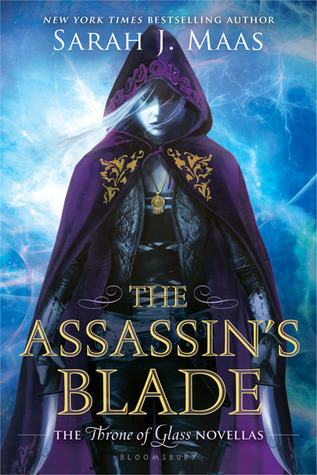 BLURB:
Contains all five novellas.

Celaena Sardothien is Adarlan's most feared assassin. As part of the Assassin's Guild, her allegiance is to her master, Arobynn Hamel, yet Celaena listens to no one and trusts only her fellow killer-for-hire, Sam. In these action-packed novellas - together in one edition for the first time - Celaena embarks on five daring missions. They take her from remote islands to hostile deserts, where she fights to liberate slaves and seeks to avenge the tyrannous. But she is acting against Arobynn's orders and could suffer an unimaginable punishment for such treachery. Will Celaena ever be truly free? Explore the dark underworld of this kick-ass heroine to find out.
MY THOUGHTS:
Ahhhhh. How much I missed the ASSASSIN. I loved the reckless, sharp-tongued and kickass Celaena more than the calculating, power bearing Aelin.

The novel is a collection of 5 stories. Everything focused on adventures of Celaena and reasons behind how she became the Adarlan's Best Assassin. She was ruthless and yet kind for an assassin. I think this is the first time, I saw her teaching someone how to beat someone's ass if you were stranded in an alley with thugs. Other times, she definitely boasted on how she will rip them into shreds if only she was there. So I loved that. Some cheap tricks yet worthful actions.

She freed almost 200 slaves and yet she found herself in Endovier. That wouldn't have happened if only she kept her mouth shut. I'm telling you this: her tongue will get her anything and nothing. No matter how her arrogance outwit her, I'll always look Celaena because I love to see her fight. Who wouldn't like seeing someone dancing with the sword?

After reading the series, one would really want to meet Sam. That is the main reason I picked this up. And I expected more from him. But I was annoyed when he didn't even appear for two stories. Frustrated. But he is definitely a best companion for her. Both assassin and her lover. Played nice. But the pain of seeing what happened to Sam was still fresh on my mind. It was merciless act. The white hot rage that blended through me when I see the person behind this was, to crush him and give a painful death to him. I want to cut him to pieces with Scythe.(bleeding till death was definitely not enough for that bastard).

"I am Celaena Sardothien. I will not be afraid."
This is beyond painful. My throat was throbbing with pain even now. No, I just can't.

Those who wanted to see Sam should read this if only they could bear the pain.
MY RATING:
Outstanding