BOOK REVIEW #71 - EMPIRE OF STORMS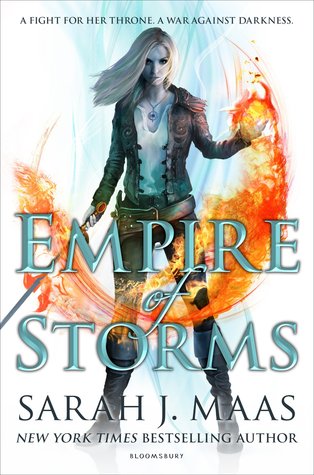 BLURB:
The long path to the throne has only just begun for Aelin Galathynius. Loyalties have been broken and bought, friends have been lost and gained, and those who possess magic find themselves at odds with those don't.
As the kingdoms of Erilea fracture around her, enemies must become allies if Aelin is to keep those she loves from falling to the dark forces poised to claim her world. With war looming on all horizons, the only chance for salvation lies in a desperate quest that may mark the end of everything Aelin holds dear.
Aelin's journey from assassin to queen has entranced millions across the globe, and this fifth installment will leave fans breathless. Will Aelin succeed in keeping her world from splintering, or will it all come crashing down?
MY THOUGHTS:
What in the rutting hell did I just read?
Let me tell you. The story is filled with impressive bitches. One was born with a mind cunning and clever as a fox to rule and annoy the hell out of you. One will gut you into shreds with her bare hands. One will shed her skin and will become your nightmare. A ginger haired one, with a swagger that could pull a competition with Aelin's swagger. Among these bitches, there is also a normal girl who will do anything but the power for doing was beyond her.
I'm ridiculously happy that I devoured every fight. My blood always throbbing for some action sequences no matter what book I read, and in this case there is no need to wait. For every few chapters, there will be a bloody scene and I relished it so joyously. The pounding of your blood. A small tingle lingering on your skin, when you sheathed your sword. The shuddering that went through your body when the fire-breathing-bitch-queen was on her full leash and the small relief that you weren't on her bad side. The air that you breathed filled with the crisp of everyone's magic. Who wouldn't enjoy these moments? The longing that you had to witness these things is ginormous.
We all know how the darkness was lurking around the corner from the beginning itself. And this book was filled with so much of it. The creatures that were born from it will make you piss yourself. You really want to know the shift in air even before they reached you. But face it: WE'RE NEITHER A FAE NOR WE HAVE MAGIC. If you know me how I love those dark things, you will call me insane when I say this: "I loved the thrumming of it so much that I want to embrace it but the mere thought of goodness is the one that holds me in." Otherwise I would be on the Dark King side. Of course, I would not be groveling.
I really want to appreciate for what SJM did here. Menstrual
Cycle. I don't know whether I have read books mentioning it or I just simply forgot it. I was literally stunned at that. And at that moment, something pushed me to like him. Admire him. Appreciate him. But when some bloody things happened, I totally hated him.
There were so many ships. I liked them all. But my heart never fluttered. I didn't make any googly eyes. I definitely had to state this fact: At times, this reminded me of Game of Thrones. Don't ask me the reason. And what irked me is EVERY.SINGLE.CHARACTER.WAS.PORTRAYED.AS.PRETTY-BEAUTIFUL-HANDSOME. But I don't care about appearance and all. So it doesn't matter. But I'm merely stating the fact.
Overall, a great addition to the story. But I'll stick with the fact that Heir of Fire is the best of the series. And I'll carry it to my grave.
MY RATING: Exceeds Expectation