BOOK REVIEW #72 - WINTERSONG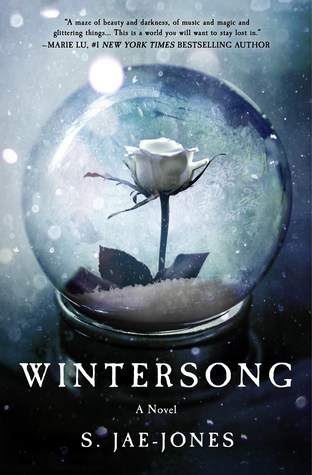 BLURB:
Beware the goblin men and the wares they sell.

All her life, nineteen-year-old Liesl has heard tales of the beautiful, mysterious Goblin King. He is the Lord of Mischief, the Ruler Underground, and the muse around which her music is composed. Yet, as Liesl helps shoulder the burden of running her family's inn, her dreams of composition and childish fancies about the Goblin King must be set aside in favor of more practical concerns.

But when her sister Käthe is taken by the goblins, Liesl journeys to their realm to rescue her sister and return her to the world above. The Goblin King agrees to let Käthe go—for a price. The life of a maiden must be given to the land, in accordance with the old laws. A life for a life, he says. Without sacrifice, nothing good can grow. Without death, there can be no rebirth. In exchange for her sister's freedom, Liesl offers her hand in marriage to the Goblin King. He accepts.

Down in the Underground, Liesl discovers that the Goblin King still inspires her—musically, physically, emotionally. Yet even as her talent blossoms, Liesl's life is slowly fading away, the price she paid for becoming the Goblin King's bride. As the two of them grow closer, they must learn just what it is they are each willing to sacrifice: her life, her music, or the end of the world.
MY THOUGHTS:
"Dangerous as a winter wind, which freezes the marrow from within, and not like a blade, which slashes the throat from without."
HOLY GODS! I'M PLEASED BECAUSE THIS EXQUISITE ART IS MY FIRST 5 STAR READ OF 2017. AND IT DEFINITELY DESERVES ALL THE STARS.
I'm in awe. The beautiful cover lured me in. The brilliant magical story made me an addict. The ever-so-perfect Goblin King seduced me. I cherished the moments when he tuned me. This story stands unique among its peers who have the same tropes. I don't have any music unless you count the songs (It's always the first two lines of a song, anyway) I sing during my shower. This book reached my soul and my veins became the string. The music from it coursed throughout my whole body and it's still thrumming inside me. The music compelled my body to dance through it. On the whole, I was a puppet which was in the hands of this book.
"You are," I said, "the monster I claim."
I want my own Goblin King to claim for myself. He is mysterious, wicked and loves his victory. He is like the golden apple among the sea of red apples. The one, that catches everyone's eyes. Women will want it for themselves. But beware of how wicked the goblins could be. Everyone knows not to accept anything from the goblins. There is always a trap. This time the King indeed set his mind on something. And know this: his way of playing is anything but honest.
"I need you to break me in order to find me."
Leisl was filled with passion and intensity. The music is wild inside her. But no one knows it. Above all, no one wants it. So she contained it and was merely doing simple chores. When she wasn't doing it, she helps her brother. She hears her music through his brother's violin. And when her sister was tangled in the net thrown by the goblins, everything changed. When she thought her music will be of no use when it comes to goblins, she really was so wrong.
I really wanted to dock some points because of Leisl. She was such a pain in the ass when she rambled about her appearance. "Ah. Who would look this plain, not-beautiful girl?", "How I wish I could be pretty", "Why do I have to be like this?". WILL YOU SHUT YOUR BLOODY MOUTH? I just wanted to put some sense into her. But I just couldn't. This book was so good that I really wanted to forget that part.
Get ready for the winter. Get ready to swoon. Get ready for the selfless love. And get your ass up now and read this immediately.
MY RATING: Outstanding