BOOK REVIEW #81 - THE ROSE & THE DAGGER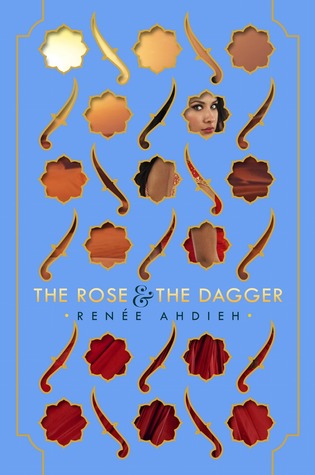 BLURB:
The darker the sky, the brighter the stars.
In a land on the brink of war, Shahrzad is forced from the arms of her beloved husband, the Caliph of Khorasan. She once thought Khalid a monster—a merciless killer of wives, responsible for immeasurable heartache and pain—but as she unraveled his secrets, she found instead an extraordinary man and a love she could not deny. Still, a curse threatens to keep Shazi and Khalid apart forever.
Now she's reunited with her family, who have found refuge in the desert, where a deadly force is gathering against Khalid—a force set on destroying his empire and commanded by Shazi's spurned childhood sweetheart. Trapped between loyalties to those she loves, the only thing Shazi can do is act. Using the burgeoning magic within her as a guide, she strikes out on her own to end both this terrible curse and the brewing war once and for all. But to do it, she must evade enemies of her own to stay alive.
The saga that began with
The Wrath and the Dawn
takes its final turn as Shahrzad risks everything to find her way back to her one true love again.
MY THOUGHTS:
I was in euphoria when I devoured(in one sitting) the spectacular piece of the art, that is The Wrath & The Dawn. But this book let my soul down and threw my heart to the downhill where I couldn't reach even if I used the magic carpet. Am I dramatic? Of course not! You should have seen my expressions when I was reading.
ME: Ah, this book is killing me. I'm bored to the bone *yawns*
ME(after some time): Am I reading the right copy because I couldn't see any characters from the first book *screams in frustration*
Also ME: I wish you(the book) to do something.
(But instead of taking my wish as his command, he screwed me over)
ME: Finally! the book presented me with a glorious thing. And that is: THE END
"Cut the strings, Shazi. Fly."
Sure, I liked the writing and the foodie descriptions(there was not much, though, sigh). I somehow felt the story was kind of messed up. Unnecessary death which would've caused me pain if that happened in the first book when I cared for them. This book lost my affection for the characters. I can understand, when the war was hovering over your head the existence of happy moments was very limited. But I missed the banters between Rahim and Tariq.
And how could you do this to my poor Jalal? He was screwed upon. I never thought I would see the day where Come-here-and-confide-in-me Jalal changed to I-won't-watch-your-back-anymore. I was like: no, please don't be like that Jalal. I'll be there for you. You don't need anyone unless of course, it's me.
My-name-is-betrayal-but-I'm-not-betraying moments confused me. And irritated me to no end. When the gate of the hell was burning, here I was seething at myself on why couldn't I enjoy at least the showering of arrows. Instead, the arrows struck my bubble world where I thought I would enjoy this book as much as I loved its ancestor.
The ending was not much to boast upon. It could've been better. And I forgot to mention this: I despise Despina.
A total disappointment read for me.
MY RATING:
Dreadful